Made in EuropeSmall businessUpcycledVintageWomen empowerment
The beauty of imperfection: Andrea and Liseth on creating Ensō
By Renoon
We chatted with Andrea and Liseth, the two young women behind the Ensō project, to discuss why they created their brand, what sustainability is and how they picture the future of sustainable fashion and of Ensō
Liseth and Andrea, the minds behind the Ensō project, met while working for a big fashion company in Amsterdam – Liseth worked in sales and Andrea on design – but actually they connected after they both left…
After quitting, we realized a change in fashion was possible!
Thus, Ensō was born in 2019 in Amsterdam, from a desire to wear modern clothing without harming people or the planet.
The name Ensō comes from Japanese culture, and it means " to find beauty in imperfection" and is also a specific circle stroke. 
We found the name the day we said "we really can't find a name"…  it was meant to be and it perfectly fits our vision!
"It represents the beauty of imperfection. We want to reimagine the fashion industry by giving clothing a new life through upcycled and curated vintage, while creating a community around us" they explain
"Ensō is about clean silhouettes, powerful shapes – already existing or upcycled into our vision – in modern aesthetics . We don't believe in seasons, but in the connection between history (garment)  and the (new) owner"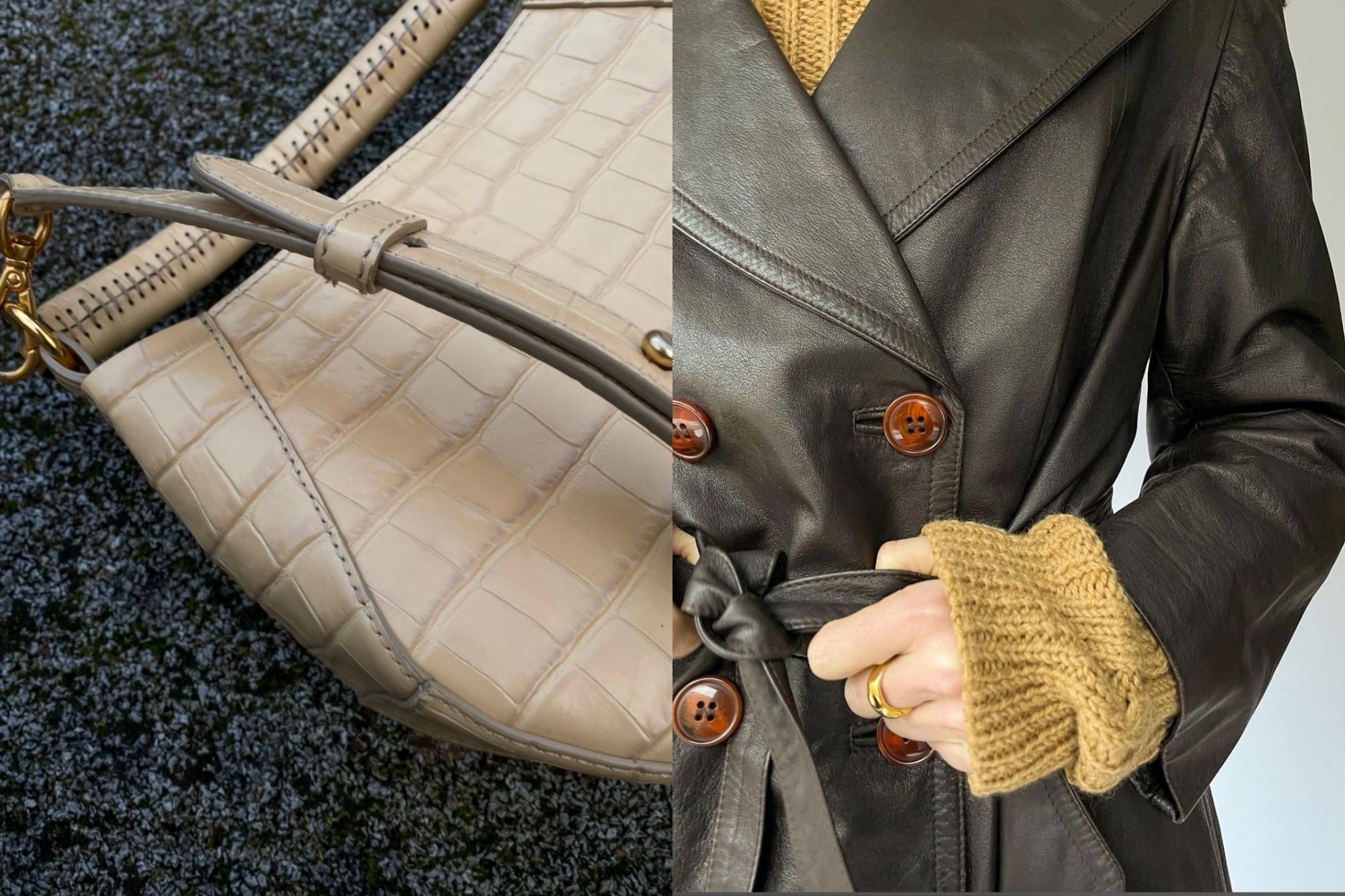 We created our own brand to break all stigmas around vintage & second hand, and to give back to the planet
"This was also a way to connect with people that feels to wear vintage with a "clean silhouette" is not possible…
The biggest challenge for us is answering the question "Why should I buy vintage instead of first-hand". We are special in that sense because we don't only curate, but we have a strong brand DNA shared via our upcycled collection. We treat vintage as a brand, changing the way retailers and customers see pre loved!" they explain
Both Andrea and Lieseth have always been involved in the world of fashion. In fact, Andrea thrifted and upcycled her grandma's & mom's wardrobe since she can remember and Liseth was "born among clothing racks" as her family works in retail. 
Our journey into fashion sustainability was both a gradual process and a sudden realization… 
"We've always worn vintage (and never understood why everybody else didn't!). But there was a click moment for both after quitting our jobs in fashion" they said
For Liseth, it happened after 1 year of backpacking and connecting with nature; instead, Andrea had a breakdown because of the huge amount of clothing and personalities that her wardrobe had. And so Ensō was born also to reconnect with their true self.
I used to think that sustainable brands did not look appealing. But really… I was just not browsing correctly!
"We wished we knew about all the insane greenwashing happening, and how there is still a very low level of awareness about making a sustainable choice…
We consider as sustainable those brands that build strong collections and do not need to change their DNA every season to fit. Those who comunicate their real intention towards sustainability, and take the risk using innovative materials and techniques" they explain
The first thing we would change of today's fashion industry is the huge offer most of the brands have
"Thankfully, with the pandemic,  people are definitely connecting more with their essential needs, more aware of how little we need and where happiness comes from. We just hope this feeling is not washed away too soon…and is passed on next generations!
We feel like the future challenge for sustainable fashion will be for consumers to differentiate between the real thing… and the green-washers. Also how factories (specially in Asia) will adapt to ethical and sustainable practices. That is a very long road …. and it all starts with education". 
So… to someone just approaching fashion sustainability we would say…
"Ask questions and only buy when your heart skips a beat looking at that item… because it will last for more than 100 years on the planet."
"When it comes to us, sustainability is about being conscious about our habits and value the impact that our decisions and purchases have on the planet. We have been wearing only vintage or sustainable new items for the past 3 years, same for interior and home stuff. We are both veggies and try to compensate our CO2 emissions yearly with treesforall.com" they explain
But hey, we're humans… Things like traveling by plane are still difficult to let go. We have a lot to learn and to improve!
"When it comes to Ensō's future… we want to grow with the new generations. We have settled a great base we are extremely proud of (as we do everything ourselves!) but now we want to get Ensō to know the world, and the world to know Ensō. So our next stop is to create a larger zero waste upcycled collection & Pop ups across Europe!" 
Our biggest fashion inspiration are new designers! (But we'd love to have dinner with Margiela)
"We love to get surprised by how newcomers look at "what's already there" and have the balls to reinvent it. Another big source of inspo is Martin Margiela: tailoring and innovation taken to another level… If we could pick a designer to have dinner with we'd go for him… we'd love to ask how he got people t both understand and accept his concepts… and also if newness ever became a challenge for him!"
Pick and choose: fashion edition!
Three clothing items to wear for the rest of your life: A good suit, oversized trench… and break it with an Ensō Upcycled shirt!
Three brands: Peter Do and Sacai (non sustainable but aesthetics are just too good, sorry!); Rus the best knitwear brand locally produced and sourced in Spain; and Cordera – also from Galicia – based on natural and recycled materials with atemporal silhouettes
One item that should be in everyone's closet: A WOW trench coat. And a sexy slip dress, a killer denim, a bold black boot (sorry… just one?) all vintage, of course! 
A fashion trend that you hope to never see again: Low crotch in a cheap way (too late for this one!) , studs and stupid high stilettos … oh and huge soft boho like bags… we just… can't.
Something you wished came back into fashion: Jackie O/Bianca Jagger 70s Saharian suit summer vibes, skate-inspired silhouettes and peplum skirts. Total opposites hah. I'm a sucker for oversized-shirts-layering and skaters do it best, Jackie and Bianca are just masters of "looking chic 24/7" and peplum is just and effective fun statement
Ensō is one of the amazing projects you can find on Renoon. To discover more about its values and products, you can find and follow them on the app & add it to your feed, to continue exploring more emerging, responsible designers!
What to read next
What is Renoon?
A new way to discover and shop fashion responsibly
Renoon is a leading app for sustainability and fashion. We connect our members with the multitude of brands and platforms to simplify and enrich the experience of combining style with sustainability values.
A destination and community launched in 2021, guiding thousands of members in their sustainability journey. Renoon is not yet another shop; it's an entire universe of values, untold stories about sustainability and a cohesive place where intentions become reality.