RecycledResponsible animal-originSlow fashionSmall businessVeganWomen empowerment
Sustainability at the MET Gala 2021: from a Tax the Rich dress to Billie Eilish's demands
By Renoon
For an event that has the attention of millions of people, the MET Gala is the perfect place to want to make a statement. A handful of celebrities would agree with this too, especially since many of them made a statement at this event, wearing outfits that expressed the values and missions that they believe in.
And while some understood the assignment…some did not.
How did sustainability make its way into the Met Gala dresses this year? For starters, Google searches about the U.S. tax code went up after AOC hit the red carpet with her "Tax the Rich" gown. You'd say that was a pretty successful statement dress, wouldn't you?
For an event that has the attention of millions of people, the MET Gala is the perfect place to want to make a statement.
A handful of celebrities would agree with this too, especially since many of them did so, wearing outfits that expressed the values and missions that they believe in. Because sustainability can mean wearing an ethically made organic cotton dress, but it can also express deeper values like system change and women empowerment.
And while some understood the assignment…some did not, really.
AOC called out the system in an unconventional, yet MET Gala approved way
One of the main topics of conversation of the hour was AOC's dress. Created by the Founder and Creative Director of the brand Brother Vellies, Aurora James,  the dress was a collaboration with Congresswoman AOC to raise awareness towards a topic that the both of them felt quite passionated about: economic inequality and justice.
James explained that AOC reached out to her to make her a dress for the MET Gala, even though she mostly specialised in the craftsmanship of shoes ethically-made by local African artisans. James then went onto create this beautiful white dress, using discarded fabric scrap, and loaned it to AOC for the night.
The dress was the perfect way for both immigrant, working women to express the frustration that they have towards the American government, whose options for success are very limited for the working class, especially people of colour. "With access comes great opportunity…We must always continue to push ourselves, push our colleagues, push the culture and push this Country forward. Even when it's uncomfortable. Fashion is changing, America is changing" expressed Aurora on her Instagram account. Their MET Gala participation definitely caught the attention of the crowd. The concern that many have is that this will only be a conversation of topic that will eventually die down. We can just hope that this conversation actually turns into something even more powerful. And that real change can be made in regards to the treatment that the lower classes get in the US.
Another great moment for sustainable fashion was Billie Eilish's dress.
Billie Eilish agreed to partner with a luxury brand under one condition: for them to go fur-free
Billie, who has been a vegan and an animal activist for years now, went on to explain to her 40 million followers on Instagram the reason behind her decision. "I am beyond thrilled that the entire team heard me on this issue, and have now made a change that makes an impact for the greater good, not only for animals but also for our planet and environment too. I'm honoured to have been a catalyst and to have been heard on this matter. I urge all designers to do the same", she explained.
This was definitely a win for animal rights.
It took 24 months to make this dress
And last but certainly not least, another one head-turner was Natalia Bryant's carefully handcrafted dress. The dress was designed by Conner Ives, who explained that it took 24 months to complete the creation of this dress which is completely from recycled PET plastic.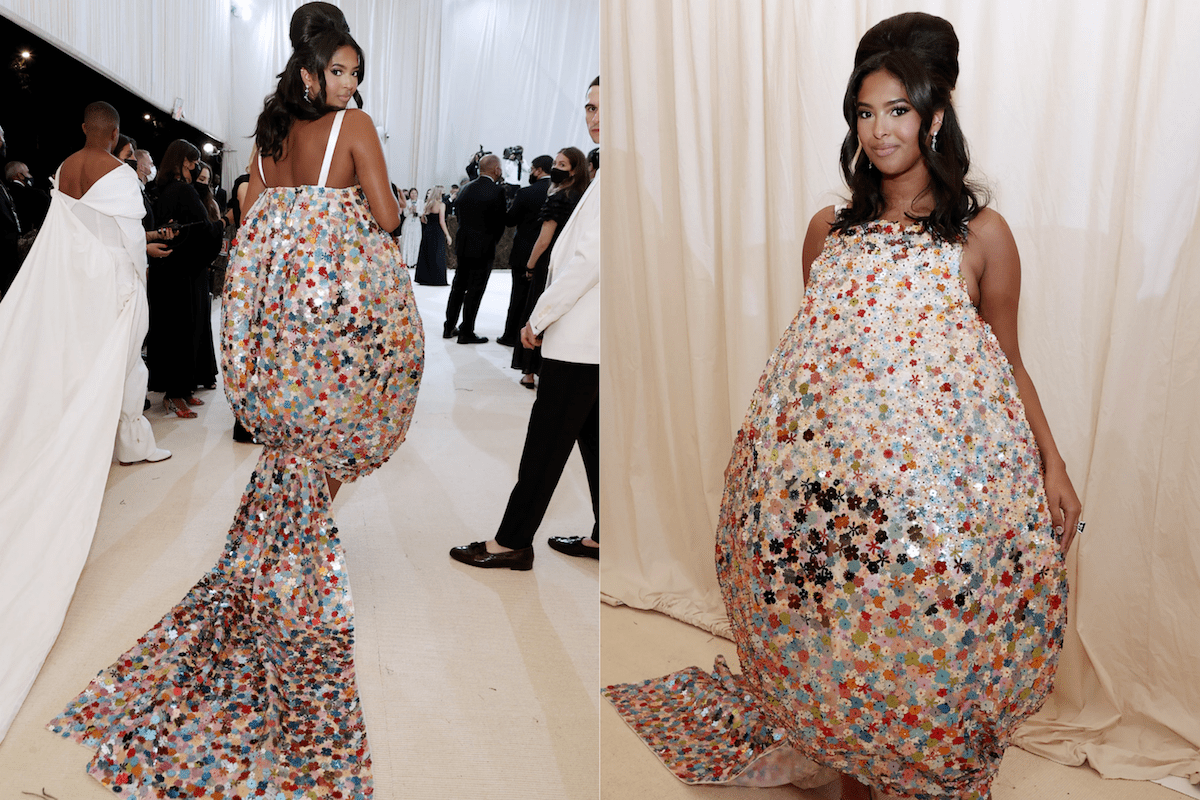 On the other side of the spectrum, we have the celebrities that tried… but were certainly not successful.
US Representative Carolyn B. Maloney got called out for hypocrisy due to her problematic past
US Representative Carolyn B. Maloney was one of the MET attendees that certainly became a subject of conversation that night, but not in the way that she had hoped her.
After showing up that night with a colourful dress that had banners on the sides that read ""EQUAL RIGHTS FOR WOMEN", many couldn't help but to bring up Maloney's problematic past. According to Diet Prada, "in 2001, the congresswoman dressed up in a burqa to justify the invasion of Afghanistan in 2001." For many Muslim women, this is a perfect example of how their identities are weaponised to justify American wars.
And continuing on the same subject of questionable MET Gala attires, we have Cara Delevingne.
Cara Delevingne wore a statement top that turned out to be stolen
Another celebrity that was all over social media was Cara Delevingne. The actress and model wore some white pants accompanied by a top that read the statement "Peg The Patriarchy." And while many thought the catchy phrase belonged to a certain luxury brand, it was actually a creation by Canadian entrepreneur Luna Matatas.
According to Matatas, she hasn't received any credits for her phrase and has yet to be contacted by either the model or the fashion house. "It's classic appropriation" she told Buzzfeed News,  "we're talking about people with a lot of privilege. It really would have been so easy for us to link arms and lift each other up."
In addition, many had a hard time liking the outfit since it came out as tone-deaf. "When someone is aware they have no genuine transgressive thoughts so they resort to crass sex humour that is only shocking to people who are similarly sheltered, so they can feel transgressive among peers," said a person on Twitter.  A lot of people called out Delevingne for being a classic example of performative activism, especially since the brand that she is wearing has been a victim of that in the past.
It is wonderful to see that every year more and more celebrities and designers feel the need to get involve in sustainability and activism for important matters. We hope that these important figures get to turn topics of conversation into actual actions, especially due to all the power that they hold.
Let's hope that in the years to come we get to see sustainability and activism skyrocket!
What to read next
What is Renoon?
A new way to discover and shop fashion responsibly
Renoon is a leading app for sustainability and fashion. We connect our members with the multitude of brands and platforms to simplify and enrich the experience of combining style with sustainability values.
A destination and community launched in 2021, guiding thousands of members in their sustainability journey. Renoon is not yet another shop; it's an entire universe of values, untold stories about sustainability and a cohesive place where intentions become reality.