Materials of the futureOrganicRecycledSlow fashionVegan
Here is where to buy the Veja and Rick Owens sustainable trainers
By Anastasia Ovchinnikova
No more Veja's on the website? No surprise there, these trainers are selling out before the news are out! Don't worry, we've got your back! Let's see together where to find and shop from the best sustainable effort from Veja's runners!
Rick Owens has teamed up with Veja on a fully sustainable trainer. 
Veja collaborations with CFDA Lifetime Achievement Award-winning Owens' are one of the most-anticipated sneaker hook-ups out there (btw, always an instant sellout).
In the past, the Paris-based designer took the French brand's best hiking sustainable sneakers and knitted runners for a spin, offering them the chunky laces and his signature back tags.
Now the pair is back for another outing.
Veja and Owens have introduced to us the new pair: The Runner Style 2.
These trainers, the Runner Style 2, is the low reinterpretation of the Runner Style developed last year and comes into 4 colors and 2 variations. They have been made on a lighter and smoother sole, helping runners achieve faster and better runs.
A better purchase?
Yes! The shoes have been made on a smoother and lighter sole, which in turn can indeed help you achieve better and faster runs. But that's not all…
There's more to the Runner Style 2 that can make you feel better if you really need to purchase a new pair of running sneaks:
#1 They are bio-based: While the Runner Style 2. might carry you further and at a greater speed, the big deal with these trainers is that they are their greenest effort to date, to be precise!
#2 Composition – combination: The midsole composition of the trainers is at 46% sugar cane and 8% banana oil. The outsole is made out of natural cork that has been merged with 30% Amazonian rubber and 31% rice waste too.
#3 Recycled materials in and out: the knitted upper part of the shoe is made entirely of 100% recycled polyester coming from waste plastic bottles.
Here is where you can find and shop for Veja & Rick Owens trainers:
@Sneakersnstuff
For new Veja's. Sneakersnstuff has 3 colours to choose from and one variation.
Price: €249
Shipping: Free in Europe
Available in: Worldwide.
Purchase on SNS
@Farfetch 
Veja has been found on Farfetch too – there is only one color though.
Price: €506
Shipping: Free
(Delivering from the USA)
Available in: Europe, America, Asia and Oceania (limited to Australia)
Buy on Farfetch
@Keller-X
Veja and Rick Owens sustainable trainers are also there in the 4 colors and 2 variations.
Available in: The Netherlands
Price: €269
Shipping: standard cost within Europe 7.90€
Buy on Keller-X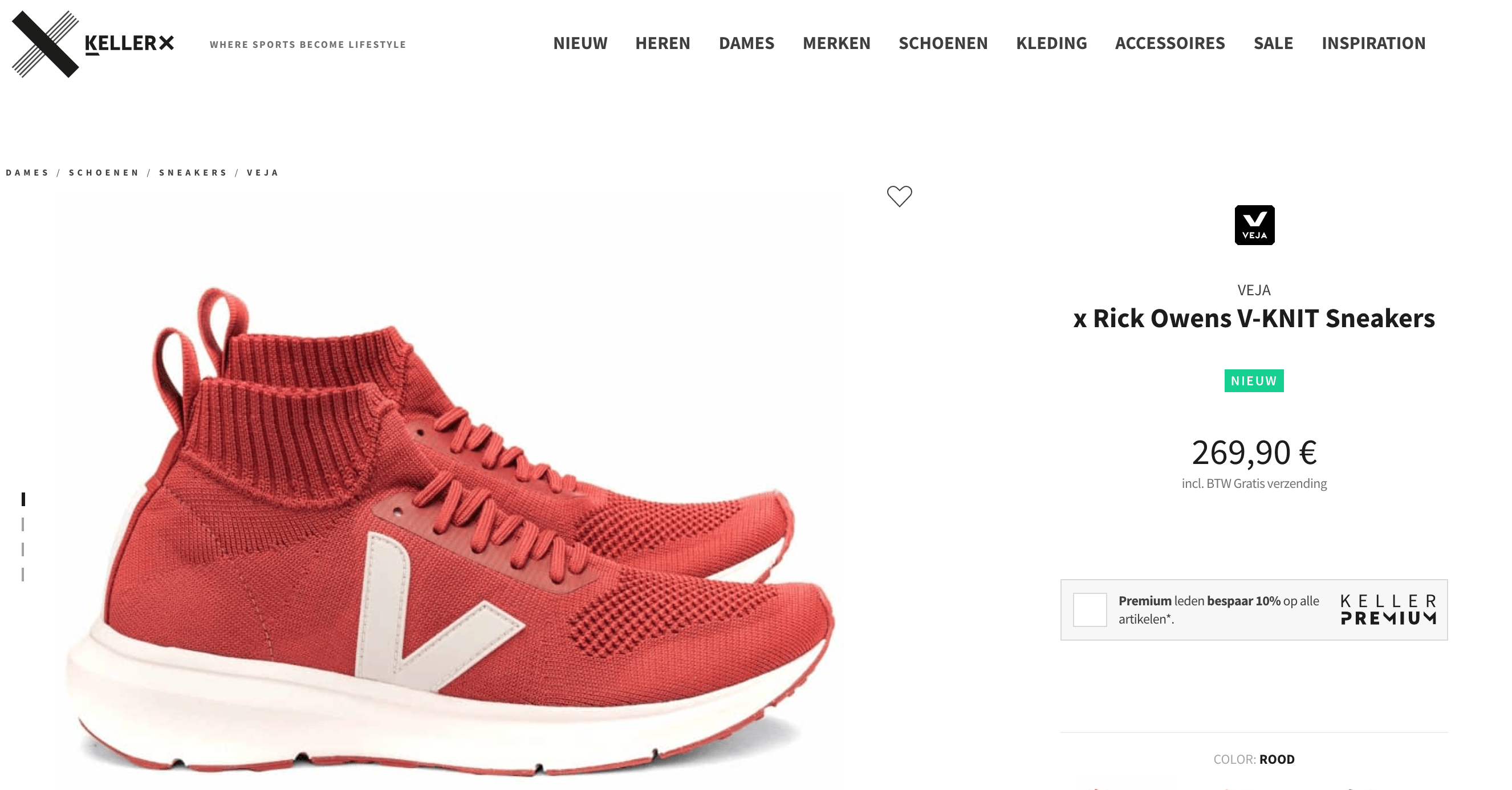 @24s
Veja and Rick Owens trainers have been spotted ON 24s.com too in red, white and black!
Price: €270
Shipping: Free express delivery
We've already listed a few other places where you can find and shop Veja shoes.
Instead of checking one website at a time, just come say hi!
In case you did not realise yet (well, we are only in Beta now), Renoon is here to help you find all conscious options that are available out there. Our simple yet efficient technology and algorithms curate all the green gems you are searching for. If an item is sold out on its official website, don't worry and come to Renoon. We already got your back on multiple brands and different websites where to shop!
Don't forget to tag #foundonrenoon once you got your sustainable Veja and Rick Owens' collab.
What to read next
What is Renoon?
A new way to discover and shop fashion responsibly
Renoon is a leading app for sustainability and fashion. We connect our members with the multitude of brands and platforms to simplify and enrich the experience of combining style with sustainability values.
A destination and community launched in 2021, guiding thousands of members in their sustainability journey. Renoon is not yet another shop; it's an entire universe of values, untold stories about sustainability and a cohesive place where intentions become reality.