Closing the loopEthical laborLower emissionsMaterials of the futureRecycledSave the oceansTimelessUpcycledVintage
Who wore it sustainably? Dresses at the Oscars this March 2022
By Renoon
No slap in the face from us! Celebrities actually wore their values via their dresses at the 94th Academy Awards. More on who wore them at the Oscars this March 2022.
Related brands
Red Carpet moments are seldom associated with responsible choices, with designers creating unique pieces with the goal of making them shine only once on the awards night… Fortunately, the Hollywood community has started caring more about the environmental impact of these events and this 2022's Oscar season brought some stunning sustainable looks on the red carpet.
Recycling, upcycling and vintage options were all seen on the 94th Academy Awards' carpet, worn by the likes of Mila Kunis, Megan Thee Stallion, and many more.
Here are some of our favorite responsible looks from this edition!
Kirsten Dursten in a vintage Christian Lacroix at the Oscars March 2022
Kirsten Dunst, a first time nominee showed up to Sunday night's Academy Awards in Los Angeles wearing a strapless vintage (2008) gown with tiered ruffles by the legendary couturier Christian Lacroix. The actress has been known to favor vintage when it comes to some of the biggest red carpet moments of the year, good for her!
Vintage clothing is good for the environment because the clothes already exist. No new resources or energy has been used to create them, while the only carbon footprint left by vintage fashion is that of transportation and minimal repairs!
Mila Kunis in Zuhair Murad at the 94th Academy Awards
The Ukrainian actress Mila Kunis picked a Zuhair Murad responsible gown for her appearance at this year Oscars. The beautiful pink gown was created by the designer Rahel Giuragussian, who came up with the concept of biodegradable sequins, which decomposes completely in a few months and doesn't contain hazardous chemicals.
Rahel also uses a zero-waste method by trying not to dispose of any of her fabric. Often, the material is not even cut, but is instead draped around the body like a sculpture, as it seems on Mila!
Maitreyi Ramakrishnan in Stella McCartney at the 94th Academy Awards
The Canadian actress Maitreyi Ramakrishnan stunned at the Vanity Fair's After Party in a beautiful gold Stella McCartney dress.
The brand is well known for its usage of eco-friendly materials. In fact, the main focus of Stella McCartney is to push her brand towards circularity, innovative materials and investing in cutting-edge technologies to decrease environmental impact. The stalwart of sustainable fashion has achieved so by using materials that are majorly green in composition!
P.S.: You can read more about the brand's responsibility on the App!
Megan Thee Stallion in Gaurav Gupta at the Oscars March 2022
Lastly, the singer Megan Thee Stallion picked a Gaurav Gupta gown for her red carpet moment. The designer creates its pieces entirely out of upcycled ocean plastic, and aims at motivating the fashion industry to move towards more sustainable practices!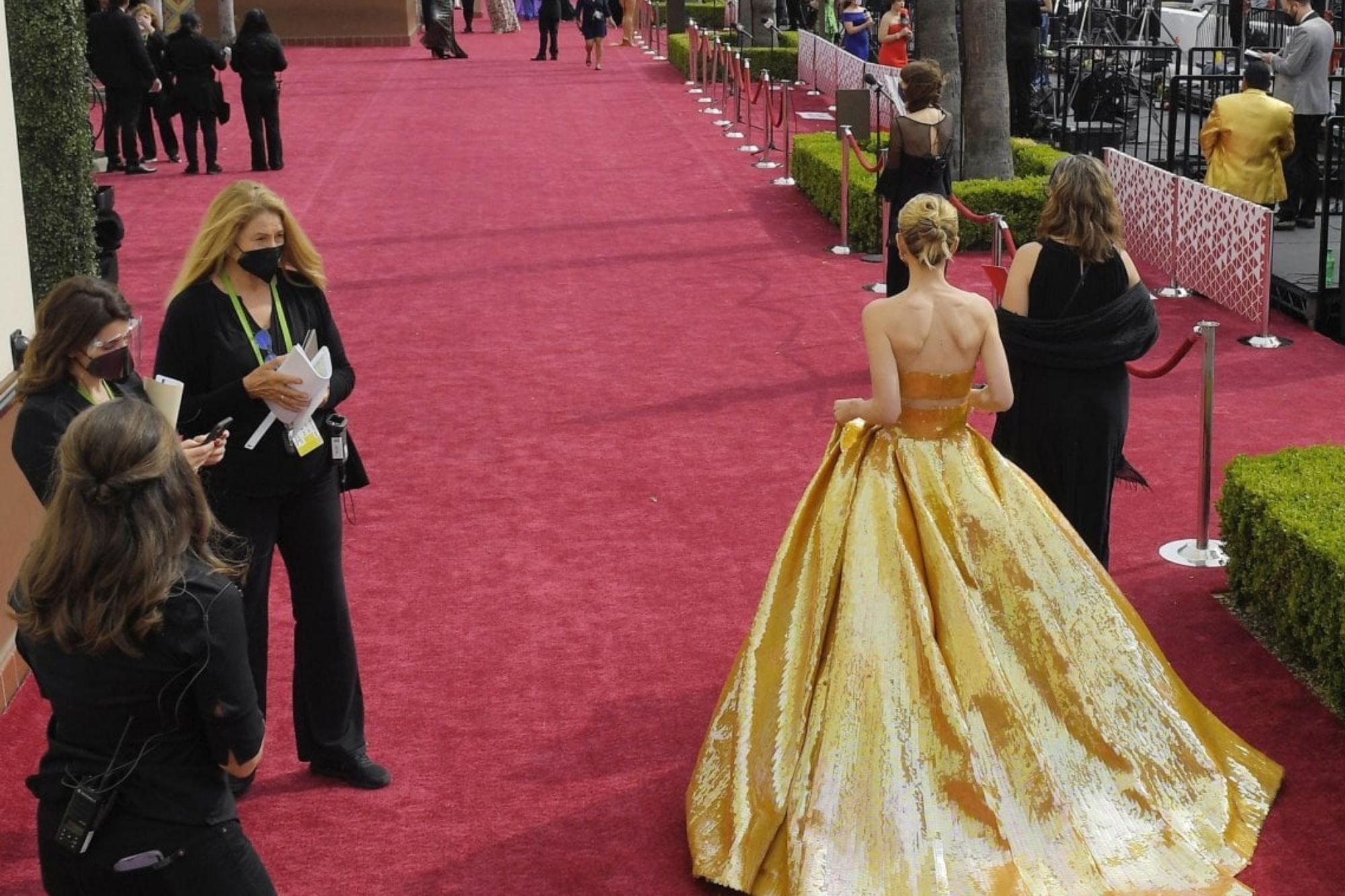 Of course, these fantastic sartorial choices made by the honourees and their teams are great, but we're still far from a truly green carpet…
Hopefully, each season will be greener than the previous one!
What to read next
What is Renoon?
A new way to discover and shop fashion responsibly
Renoon is a leading app for sustainability and fashion. We connect our members with the multitude of brands and platforms to simplify and enrich the experience of combining style with sustainability values.
A destination and community launched in 2021, guiding thousands of members in their sustainability journey. Renoon is not yet another shop; it's an entire universe of values, untold stories about sustainability and a cohesive place where intentions become reality.