Eco packagingOrganicRecycledSlow fashion
Where to buy Pangaias sustainable must-have outfit?
By Elena Picci
Oh no Pangaia is sold out on its official website? Don't worry, We got your back! Let's see together where to find and shop the sustainable must-have outfit of the year.
Related brands
A new IT-look emerged with the lockdown and we are happy to announce it is a sustainable one to shop!
There's no way you did not notice it. You might not know the brand yet, however, you certainly saw some of the products on Instagram in the past weeks/months.
Justin Bieber, Bella Hadid, the Kardashians and Chiara Ferragni's son are some of the many celebs to sport Pangaia during quarantine.
The problem is these items sell out fast! We are here to help you find where to shop your Pangaia fit. That's actually what Renoon is for! Although we are in the process of developing our platform, you can get a taste of what Renoon can give you at full capacity: always making sure you can find that item combining Style and Sustainability Values.
In fact, although the brand does re-stock every few weeks, most of the time everything gets sold out in just a few minutes.
Here's how Renoon will come in hand more and more in situations like this in the near future (we are launching in full this winter).
First Thing First: Why feel good about shopping Pangaia?
Here in just a few words:
#Bio-based
The cotton used to make these fabulous sweatpants and hoodie is grown without the use of any pesticides. Yes! It follows Global Organic Standard (GOTS). Click here to learn more about organic cotton.
#Recycled Fibres
Most of Pangaia's outfits are made with a mix of organic cotton and recycled cotton.
#Botanical dyes
The most difficult choice when you want to purchase your Pangaia outfit is to decide which color to go for. The best part? Each color is environmental friendly! Natural dyes are the way to go, since they reduce the amount of harsh chemicals released into the environment.
#Innovative antibacterial properties
Believe it or not, but Pangaia uses a peppermint-oil treatment on some clothes to create an antibacterial effect. It allows the item to remain fresher over time and to reduce your water and energy consumption as you'll need to wash it less.
#Eco-friendly packaging
When you'll receive your items you might wonder what is the material of the packaging. It says it is sustainable but it looks just like plastic, right ? Pangaia's packaging is a bio-based packaging, which means it disappears in a compost facility. Read more on eco-friendly packaging here. 
'' With PANGAIA you can make sustainable choices without compromising on style'' (Pangaia, 2020)
Here is where you can find and shop Pangaia
Certainly one of the leading apps in terms of second-hand clothing. Why should we buy new items when there is a cheaper and more sustainable option such as Depop?
Available in: Worldwide.
We tend to forget all non-fashion app. But hey! Surpise! Pangaia has been found on Ebay – most of the times the items are brand new.
Available in: Worldwide.
Never heard about it before? Check it out!
Available in: USA.
More for our UK friends. Pangaia has been spotted as well in the UK department store chain Selfridges!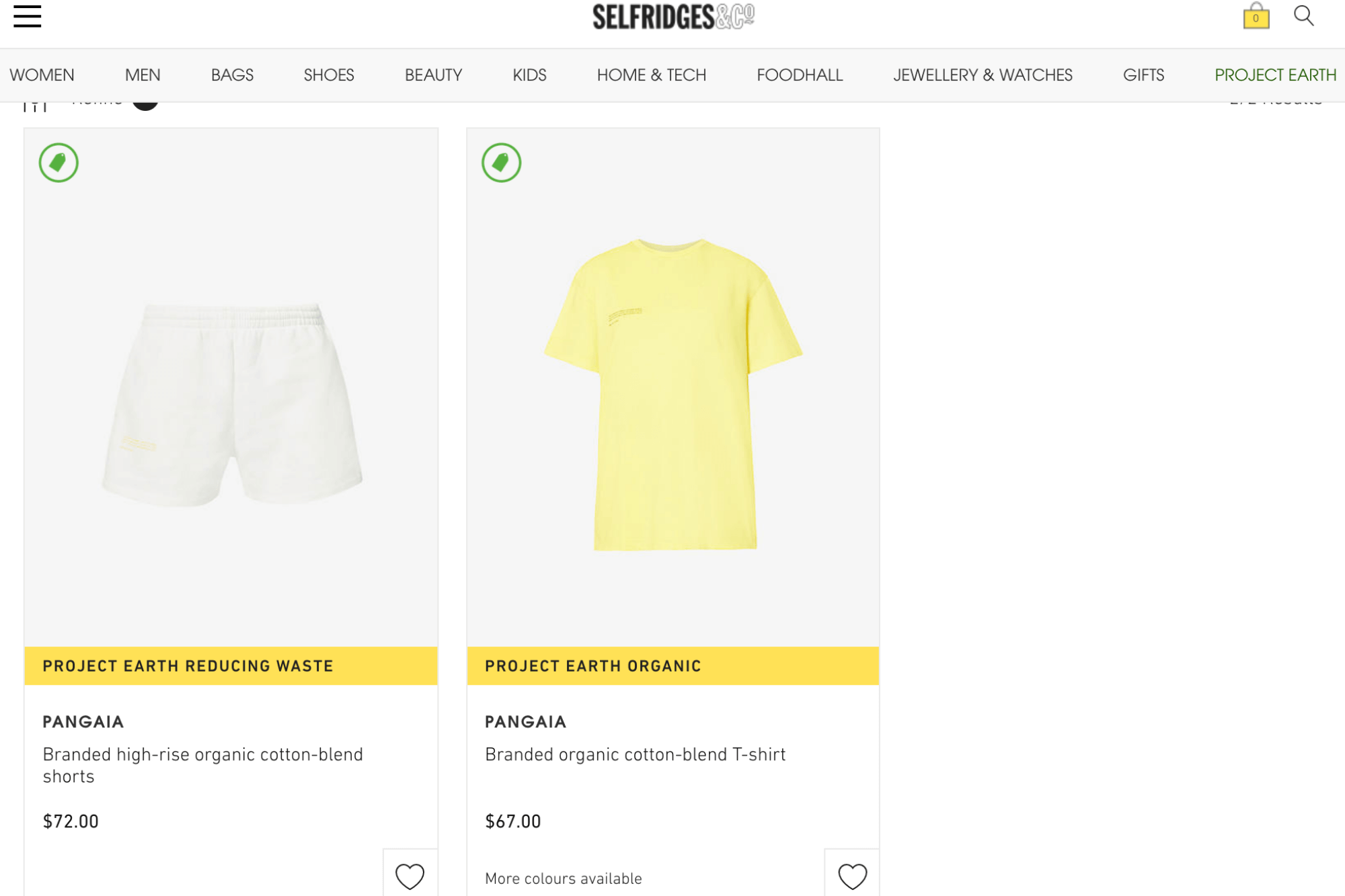 With more than 100 million of clothes for sale, you will definitely find your happiness on the second-hand fashion platform Poshmark.
Available in: USA.
and of course..
We've already listed some other places where you can shop Pangaia here on Renoon. Instead of checking one website at a time, just come say hi!
In case you did not realise yet (well, we are only in Beta now), we are here to help you find all sustainable options that are available out there. If an item is sold out on its official website, don't worry and come to mama. We already got your back on multiple brands and different websites where to shop them!
Don't forget to tag #foundonrenoon once you got your beloved Pangaia's outfit!
What to read next
What is Renoon?
A new way to discover and shop fashion responsibly
Renoon is a leading app for sustainability and fashion. We connect our members with the multitude of brands and platforms to simplify and enrich the experience of combining style with sustainability values.
A destination and community launched in 2021, guiding thousands of members in their sustainability journey. Renoon is not yet another shop; it's an entire universe of values, untold stories about sustainability and a cohesive place where intentions become reality.