CraftmanshipEthical laborRecycledUpcycledVintage
What makes a sustainable winter coat a truly responsible choice?
By Renoon
So many things can qualify or disqualify a coat as a sustainable choice: where it comes from, what it is made out of, who made it, just to name a few. Here's your guide to making the best informed choice for this winter 2021.
Related brands
With the beginning of the cold season, many of you are probably looking for the perfect coat (if you need one) for the season. And aside from matching all of your aesthetic goals, you probably also want for it to match all of your sustainable values. The perfect sustainable coat for the cold.
But, some of you might be wondering: what makes a sustainable coat, "sustainable"?
Even though sustainable cannot be thoroughly explained in just one article post, we figured we would give it a nice start by explaining how your dream winter coat can be sustainable!
So, for starters, you coat is in a way sustainable if it is…
Upcycling is the creative re-use of waste materials, useless or unwanted clothes by transforming them into something new and often one-of-a-kind piece!
Think of all the pieces that you probably don't wear anymore, and mash them all together into a new piece – e.g. a winter coat – that is not only entirely unique, but also gets to be back in the fashion circle.
You can find some brands that make some cool upcycled coats on the app like Masha with Maria, and BENNU.

brands=masha-with-maria&categories=coats
Recycling happens when the clothes are made from previously used materials such as plastic bottles, nylon, polyester, and even old clothing. It is extremely important to divert waste from being dumped with the risk of remaining on Earth for a variably lengthy amount of time. Zero waste is the goal though.
Important: make sure the composition is at least 60% of recycled content and understand what is the other material being used. To make it easier, here some checks we have done for you:
Brands like Embassy of Bricks and Logs transforms waste into something new, like puffer jackets:
Many brands also prioritize craftsmanship – the exceptional, unique, well-crafted, long-lasting design made with high quality and sustainable materials by artisans who have spent lives in perfecting their skills. It's the story behind often that emotionally connects us and can be passed from generation to generation together with the product, preserving its quality.
Many brands on Renoon have mastered the craftsmanship of their coats, creating them with not only responsible fabrics but also tons of attention and care, like Mother of Pearl, Mara Hoffman, and ZAZI Vintage.
A coat is ethically-made when the brand takes responsibility and ensures safe, healthy and fair working conditions for the people making it – it preserves the value of a piece that is crafted with intention
Right labour standards guarantee that workers are not only paid a minimum wage, but a living wage that makes sure they can afford basics in their country!

brands=zerobarracento
Pre-owned items help you reduce the impact of your purchase and close the loop. Around €150 million worth of textile waste goes to landfill and waste each year.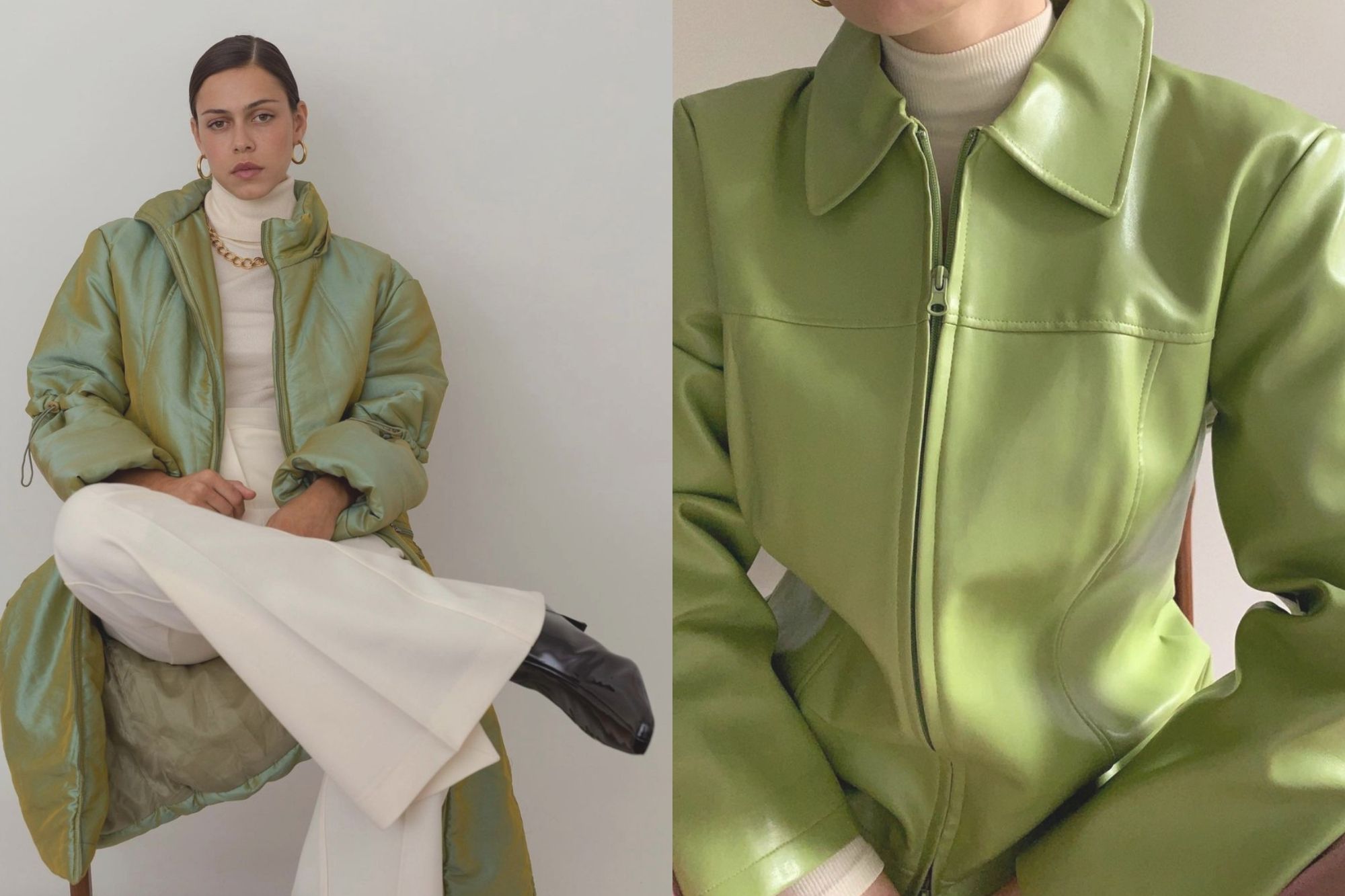 So when you buy pre-loved coats, you are keeping them in circle for longer. There's nothing better than giving a new life to an old coat that have so many wears left.
Many brands try to prioritize veganism within their company. Vegan fashion happens when no animal products are used in the production process of the item, in this case, a winter coat.
As a consequence, so many companies come up with innovative replacements to not-so-vegan-friendly materials. For example, vegan leathers are being crafted from organic plant-based resources such as mushroom, pineapple, cactus, coffee beans, cork, and grass are gaining popularity too.
Stella McCartney is one of the pioneers of vegan fashion, creating vegan alternatives like her very own Eco Faux Leather™!
At the end of the day, so many things can qualify a coat as sustainable: where it comes from, what it is made out of, who made it, just to name a few.
From some of your comments on Instagram, Renoon's community also values making sure that the vegan materials used are responsible and not just nylon or polyester & if you are choosing leather, wool, cashmere, make sure these are coming from a responsible origin.
The important thing is to continue learning about what makes an item sustainable (and what does not), so that we can continue opting for better, responsible choices, as well as sharing them with others!
What to read next
What is Renoon?
A new way to discover and shop fashion responsibly
Renoon is a leading app for sustainability and fashion. We connect our members with the multitude of brands and platforms to simplify and enrich the experience of combining style with sustainability values.
A destination and community launched in 2021, guiding thousands of members in their sustainability journey. Renoon is not yet another shop; it's an entire universe of values, untold stories about sustainability and a cohesive place where intentions become reality.