Vintage
Vintage: where do your unique pieces come from?
By Anastasia Ovchinnikova
Shopping for vintage instead of new when we can, is a simple way to help reduce the damaging impact of fast fashion. But have you ever wondered where do your vintage clothes are come from? We asked our partner Beyond Retro, the leading vintage retailer across the UK and Sweden, to tell us how they do it […]
Related brands
It would take 3 years to drink the water used to make one cotton t-shirt. The fashion industry is one of the most polluting in the world, and with 95% of the clothing we throw away able to have a second life. For all the vintage lovers, today we asked a very important question: where does your vintage come from?
Renoon combines the offering from multiple platforms at once, allowing you to find vintage directly from other people's closet through websites like Vestiaire Collective, The Next Closet. This is called peer to peer.
However, we also have vintage stores and boutiques. We asked one of them, Beyond Retro, who is on a mission to divert fashion from waste.
"If we waste less and recycle more, we can make a lasting impact on the world."
Can you tell us more about Beyond Retro?
Beyond Retro began in 2002 as a single warehouse-turned-retail store in East London, stocked with an eclectic range of vintage sourced from around the globe. Thirteen years, eight more stores and an e-commerce site later, Beyond Retro have carved a unique identity as the leading vintage retailer across the UK and Sweden, and remain a seminal reference point for individuals of style – as well as a key players in the circular economy.
In the UK, every household throws away 35kg of clothing a year. That's the same as 90 pairs of jeans. That's a lot when you consider the population of the UK is over 64 million people. Last year, alongside our parent company, we re-homed 90 million items. It's an amount we're proud of, but that's only 10% of the UK's total textile waste in 12 months. We want to do more!
How does your brand source vintage pieces?
Our buying team take trends seriously to offer a per-loved alternative. We scour fashion runways, global street style, edgy editorial and (most importantly) our own team and customers to determine what's next in fashion, which informs what we pick from yesterday's closets. Fanatical about vintage yet extremely precise with what we carry, product is sourced up to six months in advance, aided by a sophisticated information management system that gives constant internal trend updates. This helps us respond to shifts in the fashion zeitgeist on a weekly and monthly basis.
Next, a network of trained treasure hunters scale literal mountains of secondhand clothes to find the vintage diamonds that match our trends. Working in what the industry calls "raghouses" around the world, these "pickers" look at colour, size, fit, quality, and label to meet our buyers' needs, and it's not an easy task: only 1 in 1,000 items make the cut. Our proprietary cloud-based technology delivers the real-time intelligence that makes all the difference: pickers get weekly updates on wireless tablets to direct selections, allowing us to choose more of what you love, more often.
What about all these data?
We're not just vintage nerds; we're data nerds. Specially developed software tracks the crucial fashion stats of each unique item that arrives at our East London HQ: trend, decade, size, style, and source, among others. We process one shipping container per week, where our product experts examine each box for quality control before hanging items for pricing. All this TLC gets us closer to retail success, and you closer to awesome vintage pieces that are truly relevant today.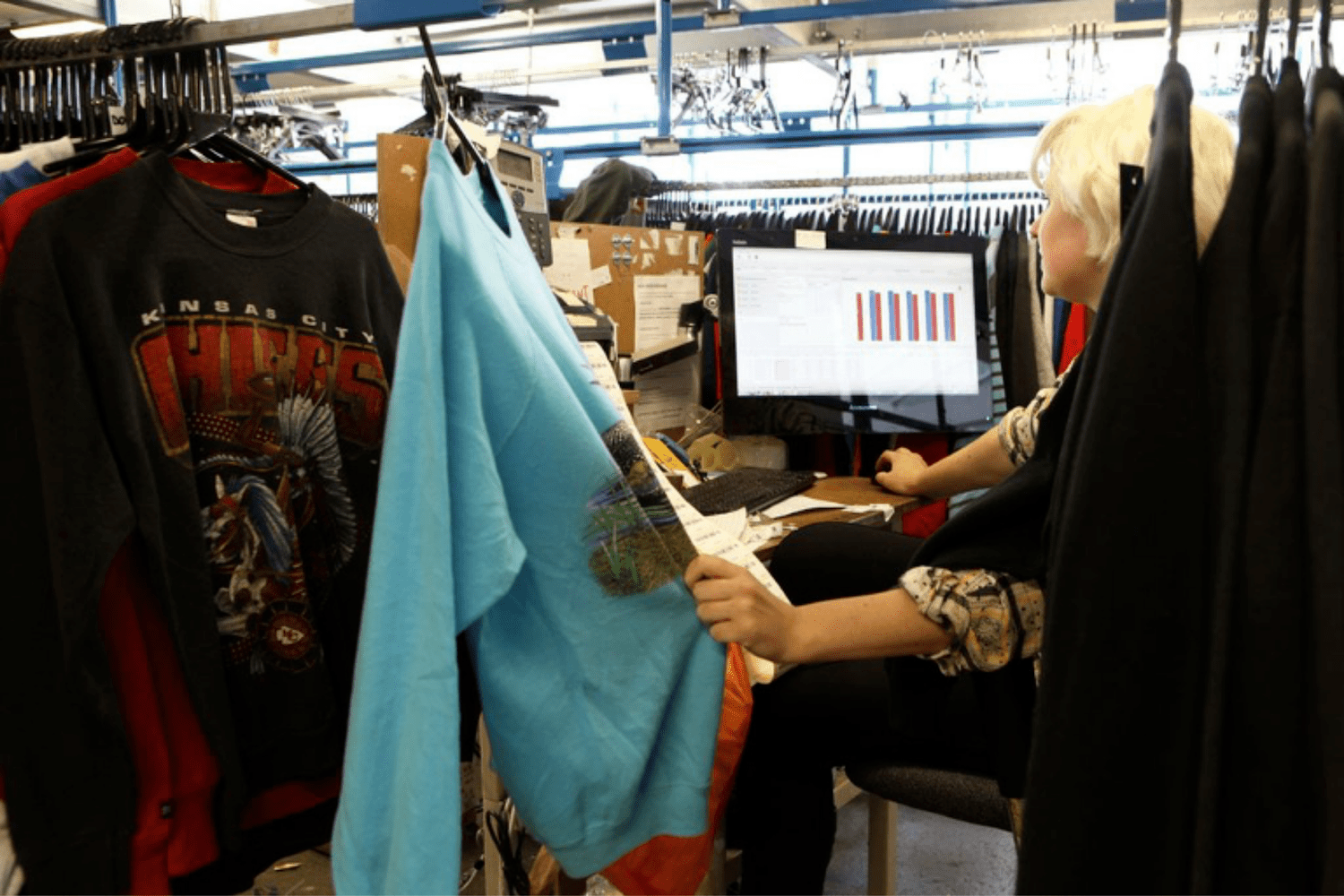 Where the magic unfolds
With each delivery of new vintage product, the circular economy is alive and well at our eight retail stores across the UK and Sweden. Because basic is boring: we go above and beyond to bring new life to clothing that promotes uniqueness. In a unique environment.
Discoverer vintage and pre-owned pieces on Renoon.
brands=beyond-retro+the-level&categories=shirts&values=vintage
What to read next
What is Renoon?
A new way to discover and shop fashion responsibly
Renoon is a leading app for sustainability and fashion. We connect our members with the multitude of brands and platforms to simplify and enrich the experience of combining style with sustainability values.
A destination and community launched in 2021, guiding thousands of members in their sustainability journey. Renoon is not yet another shop; it's an entire universe of values, untold stories about sustainability and a cohesive place where intentions become reality.