Slow fashionUpcycled
Destroying unsold inventory? Fashion gets exposed (yet again) for it
By Renoon
It's called "garbage can", not "garbage cannot". Yet we see brands keep on being caught on malpractices that do not align with claims around sustainability, ethics, and social values. At this point, it is not really shocking. However, given the urgency of making the right decisions ourselves, it makes us wonder: do luxury brands get away with their actions because they have a great marketing team? Is it because they always claim the same thing over and over again that we just forget about it? Or is there a hold on some of us so strong that we are willing to forget about it? Would you still buy from them?
On October 9th 2021, Anna Sacks, @thetrashwalker on Instagram,  exposed a fashion giant for destroying unsold inventory. According to her, she bought a bunch of destroyed Coach bags from Tiffany She'ree – a Tiktoker that is known for selling waste online, with the purpose of giving them a second life – in order to show the world the reality of what happens behind-the-scenes in fashion.
Why does a luxury fashion brand destroy its own bags?
The bags had originally been slashed by an employee, which is actually a regulation mandated by Coach, to any unsold item or to any item that has some kind of scratch. Even though they are not the first fashion company to do this, the entire world was shocked by Sacks' TikTok.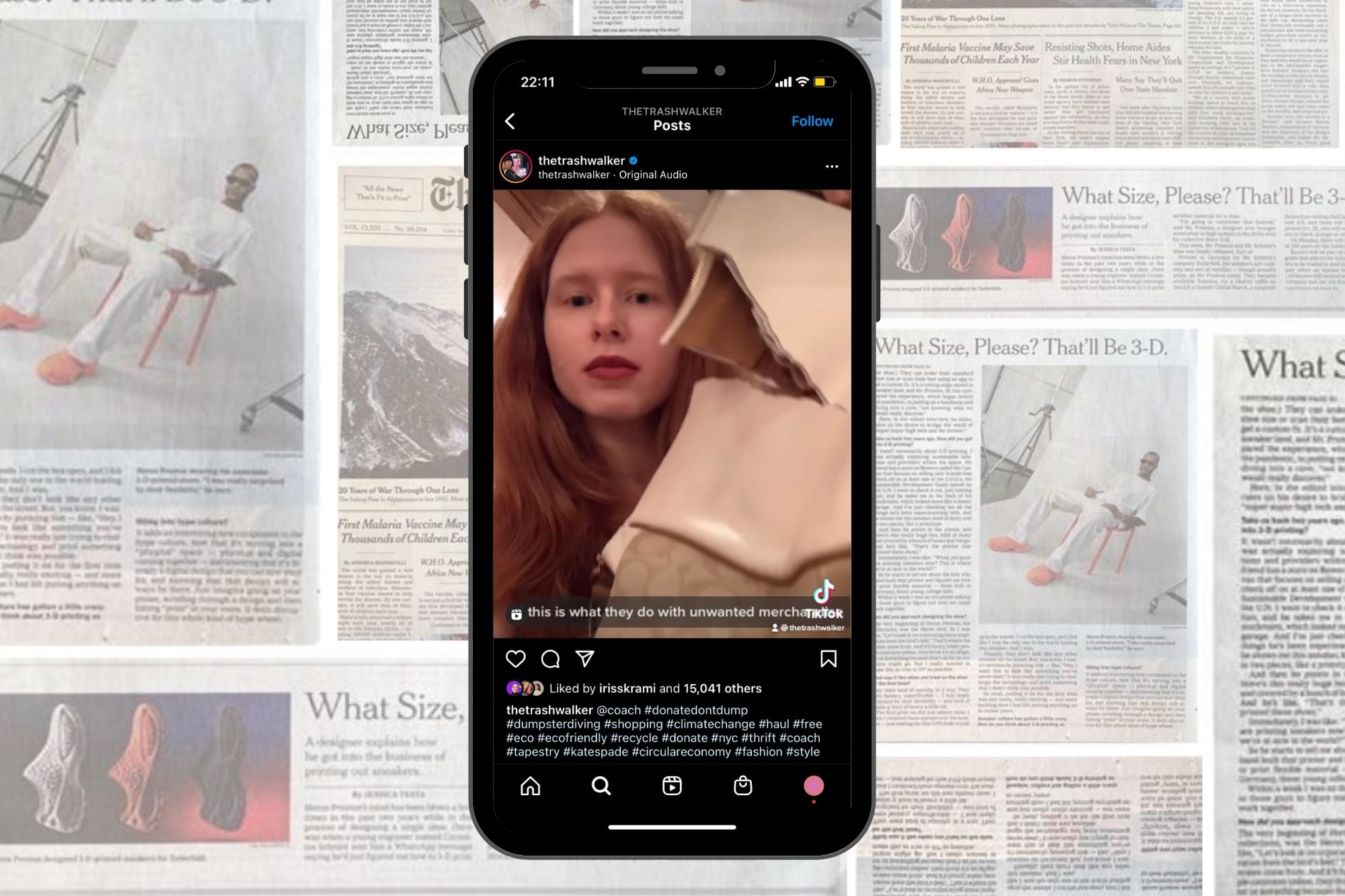 Anna explained that this is a common write-off method that many brands follow. "They order an employee to deliberately slash it so no one can use it, and then they write it off as a tax write-off under the same tax loophole as if it were accidentally destroyed", she described.
"Don't ditch it, repair it"
Her plan was simple. She would buy the slashed bags and then take them to a store from the very own brand so that they could repair them, since that is one of the "sustainable" programs that they created called "Don't ditch it, repair it"…..Ironic, we know.
Coach did not remain silent, and quickly released a statement that was quite limited. The statement read "we have now ceased destroying in-house returns of damaged and unsalable goods and are dedicated to maximizing such products reuse in our Coach Re(Loved) and other circularity programs."
But even after said statement, many of us couldn't help but wonder…
Can we really believe high fashion brands and their "sustainability" claims?
Even though, the brand claims to stop destroying in-store inventory, that is not a representative of all the other items that do not make the cut. Scratched bags, shoes with the wrong lining, and overall items that do not make it to the store. What happens to them?
It is quite difficult to believe an industry that tends to use sustainability as a marketing strategy. However, it is also important to point out that they are not the only ones to blame…
You also have the power to make a change
Five seconds after this controversial company posted their disappointing "apology", their comment section was flooded with comments from their enraged supporters claiming that they would never buy a product from them ever again.
And even though some of these claims might be true, if we're being 100% realistic, then we have to think about the fact that not everyone is going to follow through. And the reason why we're saying this is because this is not the first time that this happens.
So many luxury companies have been called out for doing the exact same thing, or even worse, and even though at the beginning they are "cancelled", a month later everything goes back to normality. We forget what happened and we go back to supporting these brands. Or sometimes we don't even forget about it, we just see a product that we cannot leave behind and we just buy it…
No one is perfect. It is completely normal to make mistakes. What matters the most is to learn from them and try as much as we can to not make them again. The problem however is that when the fashion industry commits the same mistake over and over again, it is a bit hard to believe that significant change is being made. It is like the boy who cried wolf.
Would you still buy from a brand that has been exposed for destroying unsold inventory?
Sarah from @When_Sarah_Smiles left us a. must-read comment: "I'm not a cancel-forever culture kind of person (everyone deserves the opportunity to change), but when something like this happens, a brand needs to work really, really (and I mean REALLY!) hard to prove that it means what it says, and transparently show its steps towards improvement to be taken seriously".
She also continues ends with "Especially when the brand comes with a super lame – we care about sustainability – statement after a gate like this, instead of pleading guilty and telling the world that this had been a serious wake-up call for the way they work. And in the case of Coach, my gut feeling is currently telling me that it's all blabla (and the way Coach responded makes me mad), so I will definitely not buy there as long as it does not feel right to me".
So, where to shop in the meantime?
At the end of the day, the best alternative that we can do is start supporting brands that actually are transparent about their ethical, sustainable, and social values. And instead of throwing old items away, we can always do something better with them.
Opt, do, and demand for better.
A brand we love:
What to read next
What is Renoon?
A new way to discover and shop fashion responsibly
Renoon is a leading app for sustainability and fashion. We connect our members with the multitude of brands and platforms to simplify and enrich the experience of combining style with sustainability values.
A destination and community launched in 2021, guiding thousands of members in their sustainability journey. Renoon is not yet another shop; it's an entire universe of values, untold stories about sustainability and a cohesive place where intentions become reality.