CraftmanshipEco packagingEthical laborSave the oceansSize inclusiveSlow fashionSmall businessSupport climate transitionSupport communitiesTimeless
10 swimwear brands with sustainability at heart for this summer 2021
By Isabela Spira
Curating 10 swimwear brands with sustainability at heart to help you stay true to your values this summer. Your sustainable journey this summer has two parts: choosing responsibly and knowing how to properly take care of your swimwear
If you are like us, the beach is an important part of your summer and since we love it, we want to protect it. It is not a secret that the seas and oceans are at risk and even though we want to enjoy summer, it is important to do it responsibly.
So if you're looking to renew your swimwear closet, keep reading because we have selected 10 brands with sustainability at heart to help you not only look good but also feel good while helping the bigger picture.
How to make a responsible choice with swimwear?
For starters, buying swimwear with eco friendly characteristics is very important. Here is what will make your swimwear a responsible choice this summer: ethically made and from recycled content (such as fishing nets or other waste). That is the best solution to ensure your bikini drys quickly, without drying out Earth resources…but there is more to consider!
Recycled synthetic fibers arise the problem of microfibers: tiny plastic particles that our synthetic clothing release every time we do our laundry. Those particles are very problematic as they pass through our water treatment plants, and eventually end up directly in the waterways. But don't worry, we are here to help you through your sustainability journey! At the end of the article, we will tell you more about the other important part of responsible swimwear: the washing process.
Tropic of C
TROPIC OF C is a brand with purpose, partnering with like-minded people to make a positive impact on the environment & beyond. this vision is realized through our core values of sustainability, empowerment, community and quality.
The brand focuses on sustainable production practices and materials, as well as supporting programs and organizations for female empowerment throughout the world. TROPIC OF C also concentrates on the quality of its product, picking timelessness over trends. The brand has created a growing community of empowered women who feel confident in their TROPIC OF C swimwear.
Download the app to read more on Tropic of C's values and follow them
#ecopackaging #womenempowerment #timeless
Dos Gardenias
Founded in 2017, Malibu-based luxury swimwear brand offering one piece, two piece, bikini and neoprene styles, including a fully sustainable swimwear collection, uses the finest lycra, neoprene and regenerative nylon to create eco-conscious bathing suits, made in LA.
Download the app to read more on Dos Gardenias' values and follow them
#ecopackaging #sizeinclusivity
Ocealah
Brings to life an environmentally conscious, contemporary swimwear brand with carefully designed silhouettes for a modern woman.
Download the app to read more on Ocealah's values and follow them
#savetheoceans #supportcommunities #smallbusinesses #slowfashion
Bondi Born
Australia based label, creating expertly crafted swimwear using the world's finest, high quality materials to give every woman confidence, whilst elevating her personal style.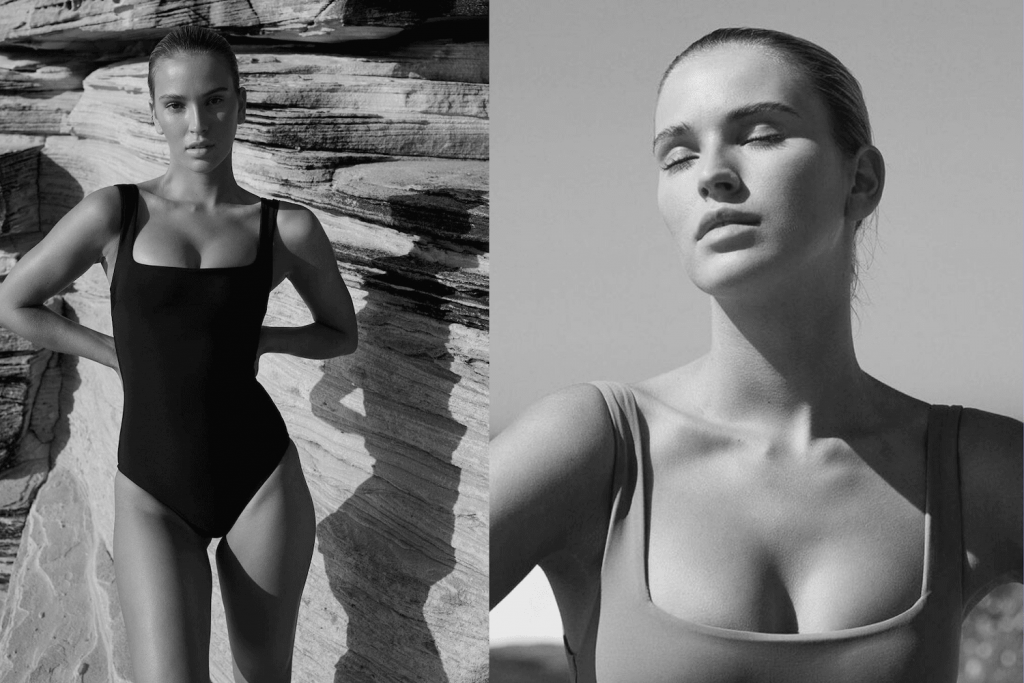 Download the app to read more on Bondi Born's values and follow them
#ecopackaging #craftmanship #timeless
TET. responsible wear
TET. responsible wear primary focus is to build a brand that effectively tackles debris reduction, particularly the plastic that litters the sea. All of their swimwear is crafted from Repreve – an innovative, high-quality fabric that's made from plastic waste and industrial nylon waste.
Download the app to read more on TET. responsible wear 's values and follow them
#savetheoceans #ethicallabor
The Nude Label
An underwear and swimwear brand designed in Valencia and inspired by the multiculturalism of London. Their products are locally created in sustainable fabrics and made of great quality sustainable materials. Sustainability and transparency are at the brand's core.
Download the app to read more on The Nude Label's values and follow them
#supportclimatetransition #smallbusinesses #ethicallabor
Daughters of Summer
Founded in 2018, this New York-based swimwear brand creates beautiful, well-made products designed with environmental and social responsibility in mind.
Download the app to read more on Daughters of Summer's values and follow them
#ecopackaging #timeless
Peony
Its thoughtful collection of swimwear is an essential for a sun-drenched escape to paradise, inspiring confidence and joy with each wear.
In the next generation of conscious fashion, all Peony pieces are made entirely from recycled and sustainable fabrications; this includes all printed fabrics, custom main fabrics and inner linings. Peony develops its own custom sustainable fabrications and textile prints in-house exclusively, proving sustainability is aligned with luxury.
Download the app to read more on Peony's values and follow them
#ecopackaging #supportclimatetransition #supportcommunities #smallbusinesses
Alicia Swim
Eco-friendly Mauritian resort brand founded by Victoria's Secret Angel creating simple, well-tailored swimwear crafted from high-performance sustainable Italian fabric.
Download the app to read more on Alicia Swim's values and follow them
#savetheoceans #ecopackaging #supportcommunities
FISCH
The brand offers timeless swimwear made from regenerated fishing nets and ocean waste. Designed in St. Barths, made in Italy.
Download the app to read more on FISCH's values and follow them
#craftmanship
How to wash your swimwear responsibly
The first step when washing your swimwear in a responsible manner is to avoid using the washing machine as much as possible and clean them by hand instead. This will prevent the microfibers mentioned previously to get in the machine drain and will then consequently reduce water contamination.
However, you might want to give your swimwear a stronger clean at some point, and that's ok. In that case, you could try putting all your swimwear together and run the washing machine once at the end of the season.
If you are interested in the subject of microfibers and how to help reducing their impact on our water, you can check out this article to learn more.
What to read next
What is Renoon?
A new way to discover and shop fashion responsibly
Renoon is a leading app for sustainability and fashion. We connect our members with the multitude of brands and platforms to simplify and enrich the experience of combining style with sustainability values.
A destination and community launched in 2021, guiding thousands of members in their sustainability journey. Renoon is not yet another shop; it's an entire universe of values, untold stories about sustainability and a cohesive place where intentions become reality.